Cheaters are becoming prolific (and Nominet could care less)
Is anyone going to talk about cheaters and ghost TAGs in 2020?
There seems to be an army of cheaters swirling around UK Backorder and RobM's catching service.
First, cheaters who shill bid. A lot of shill bidders (and some other dishonest sellers) who was banned from DomainLore have successfully moved to auction their wares on UK Backorder and are well alive there.
Quality controls on that platform seem to be lacking a lot (if they even exist). It looks like everything goes, when there is an urgency to attract as many buyers and sellers. Nobody wants to auction their domains cheap when the bidders are limited. (And I can tell it takes ages to establish a thriving community and hundreds of hours to purify it).
(Not trying to discredit a competitor, but am genuinely interested if UK Backorder owner would act by banning shill bidders from his platform if proof of their past activities is provided?)
The catchers using RobM's 'hosted chasing' software are, however, forced to sell on the provider's auction platform, so that the owner receives his part of profits for providing 'hosted' service. This provides a level of genuine auction's activity.
I introduced this revenue share business model back in 2010s with DomainCatch, but kept it fair and low-key.
I'd only accept existing TAGs who were members of Nominet before the system was introduced, so that it won't attract cheaters and lure new TAGs creation.
I kept it very limited so the customers won't compete with each other, not to make it counter-productive to everyone. And I asked and received a green light from Nominet.
Of course, indiscriminate people will come and take this model to the extremes.
I heard that RobM is now completely controlling client's systems and picking up what to catch himself. Such neat "management" allows TAGs on his hosted catching to chase domains in a different sequence to each other, skyrocketing the probabilities of a successful catch.
But that would be colluding with customers, with other Nominet TAG-holders.
If this is true, I understand that each TAG is loaded with a different set/sequence of LLLs (for example) and that optimisation happens to be a key in achieving substantially better results than any honest catcher can hope for.
(I was told RobM is even doing all the rest himself - sending catches to auctions, sales, receiving money from winning bidders and then sending catchers their part. That is happening on the auction platform he runs on his own. If so much management and selling is done by the person of a conflicted business interest, I wonder what auction bidders on that platform are thinking? If they are thinking..).
It should be very easy for Nominet to take TAGs hosted on hostedchasing.com and verify their polling patterns on days like 12 January 2020, 13 January 2020 or any other day, when the target list is so high. Nominet can easily verify if any foul play is taking place and can help put to rest these rumours.
Delude yourself not - Nominet isn't going to care. And RobM has witnessed this situation himself, based on his public posts: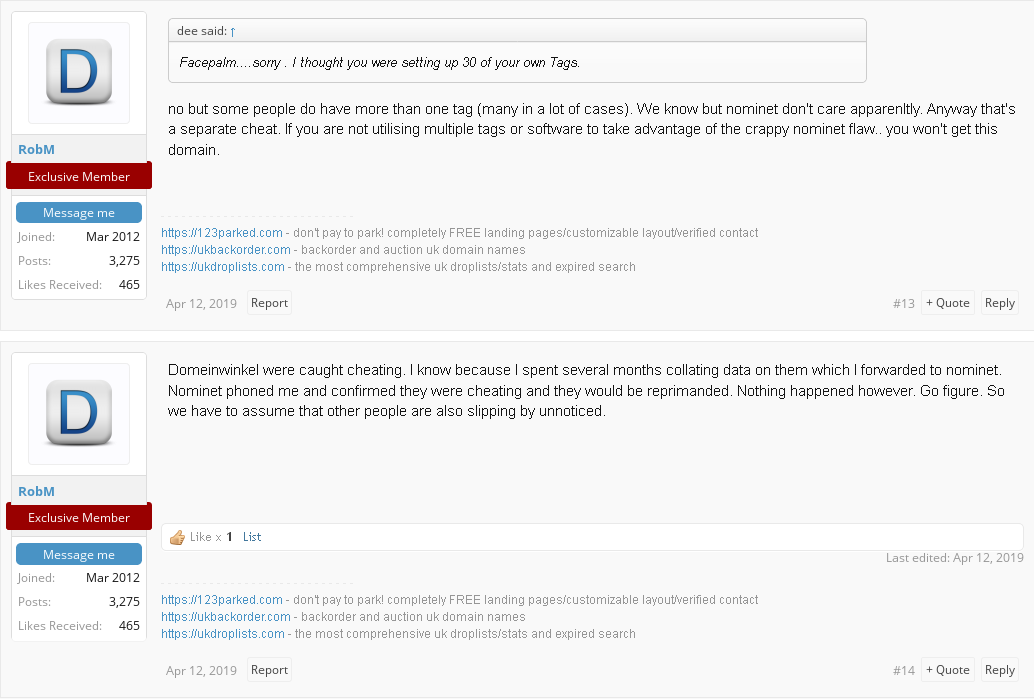 Was it a matter of "I can't beat them, so I'll join them" choice?
Has everything changed since this post?
Catching community must appeal to RobM customers to come forward and confirm whether they are not catching independently and if they are regularly told what to catch and in what order. Even anonymous leaks would be welcome.
But collusion with customers is just a second problem.
The first problem is a growing number of new ghost TAGs which are being serviced by RobM's hosted chasing.
Someone has applied for these TAGs very recently, none of them are in my recent list of Nominet registrars.
As soon as you see a girlish TAG, in 99 cases out of 100 it's a front TAG for someone else.
This nice girl trio has obtained Nominet membership and joined domain catching so recently, just in time for big .uk drops:
Rachelle Savoie [Tag = SAVOIE]
Lisa Thornley [Tag = LTHORNLEY]
Jayne Newsam [Tag = JNEWSAM]
Joe Green [Tag = JGREEN]
$ whois cur.uk

    Domain name:
        cur.uk

    Data validation:
        Nominet was not able to match the registrant's name and/or address against a 3rd party source on 06-Jan-2020

    Registrar:
        Jayne Newsam [Tag = JNEWSAM]

    Relevant dates:
        Registered on: 13-Jan-2020
        Expiry date:  13-Jan-2021
        Last updated:  13-Jan-2020

    Registration status:
        Registered until expiry date.

    Name servers:
        caught.with.hostedchasing.com
        domain.at.ukbackorder.com

    WHOIS lookup made at 15:37:35 13-Jan-2020


At least one of those women is a customer of RobM. (The others could be too, but just not advertising this relationship for now, which would obviously rise just too many eyebrows).
So, how Jayne Newsam has found out about Hostedchasing.com? To which new applications are currently closed? Would RobM elaborate?
Obviously, the owner of a such catching platform must screen and know perfectly who his customers are:
He invoices them, monitors their auctions for possible shill-bidding (uh, sorry, I am being naive here), discusses with them what happens if the catcher is willing to keep the domain, rather than auction.. etc, etc.
I bet "Jayne Newsam" as a TAG holder is a result of existing hostedchasing.com customer bringing up new people to supplement his busy days.
It should be relatively easy for a hosting provider to link these ghost TAGs to his existing customers. I bet it wouldn't even happen if it wasn't under patronage of the platform owner himself. (At least I hope it is customers who do the dirty recruiting, not the provider!).
Still, the provider is doing too much to cover it all up (or doing too little to avoid joint business with cheats).
For instance, another 'ghost TAG':
    Domain name:
        primeproperty.co.uk

    Data validation:
        Nominet was able to match the registrant's name and address against a 3rd party data source on 07-Jan-2020

    Registrar:
        Jamie Lee Marks [Tag = JLMARKS]

    Relevant dates:
        Registered on: 14-Jan-2020
        Expiry date:  14-Jan-2021
        Last updated:  14-Jan-2020

    Registration status:
        Registered until expiry date.

    Name servers:
        caught.with.hostedchasing.com
        domain.at.ukbackorder.com

The person wasn't a TAG holder several months ago. What is his background? Internet marketing? SEO? Investments? How come that he has applied for a TAG to instantly beging catching with RobM, instantly sell his domains and 40/60% share revenue with the provider?
A bit more than a half year ago, RobM was constantly complaining on Acorn Domains forum about how unfair domain catching has become:

Now RobM is doing his own disgrace to catching industry by providing services to cheaters and possibly taking part in that business himself.
This has gone too far and seems to be reaching a breaking point.
15 January UPDATE:
I've received a tip from someone who is "very certain that these following tags operate on UK Backorder platform and are fake":
—cut—
… these first set of tags are fake and solely operated by RobM
Jayne Newsam [Tag = JNEWSAM]
Jamie Lee Marks [Tag = JLMARKS]
Jill Slater [Tag = JSDOMAINS] – received a story by e-mail which I am finding hard to believe.
Rebecca Fernandez [Tag = FERNANDEZ]
Mark Walker [Tag = MWALKER]
we were able to identify this TAG holder as genuine.
—cut—
Can any of these TAG Holders come forward and shed some light on their affiliation and their industry background?
A new measure by Nominet to request a video/photo for the TAG application of holding a passport must be such a show stopper! Who would doubt that these shadow people are all living humans? .. and posses a passport? Though clearly none have much, if anything, to do with Internet industry or domains and act solely in violation of Nominet's connected persons anti-abuse provisions:
https://registrars.nominet.uk/uk-namespace/registration-and-domain-management/acceptable-use-policy/#anti-avoidance
they have social, family, ownership or business links (directly or indirectly) which mean that they either:
 - do not appear to operate truly independently of one another, or
 - **it could reasonably be assumed that they will not operate truly independently of one another**;

The question to determine if provision of catching services to these TAGs violates Nominet policy is simple:
if another Nominet member and a TAG Holder (UK Backorder) would not provide catching services to these people, would they still operate independently?
And the answer is unmistakable.
Not only these people were recruited to aid existing members in catching, but they were also provided with the software and are being instructed what, when and how to do it.
The anonymous source then provides a list of 11 TAGs which are customers of UK Backorder. This is a public knowledge, so I am not going to re-publish it.
Out of those TAGs I know most of the members (only Richard Slater [Tag = MARKETSEARCH] looks related and suspicious) and I have no reservations for their choice of the catching provider.